Africa-made luxury loungewear takes on big brands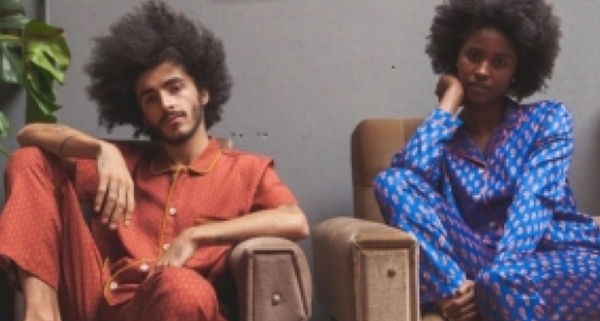 For centuries, unfinished materials for clothing manufacture—silk, cotton, hides—have been sold and shipped from Africa to the fashion capitals of the West, such as London, Paris and New York. In return, a small number of ready-to-wear clothes, cheap shoes and secondhand garments head back to Africa—at vastly marked-up prices or as charity donations.
Now an ambitious startup called the Walls of Benin, led by 30-year-old Chi Atanga, a man of Cameroonian descent born in Manchester, England, seeks to break with history by building factories in Africa that make sleepwear and loungewear—comfortable casual clothing that is stylish and sophisticated, suitable for "all night raves, boats, trains and jet planes," according to the company's website. Finished items are sold to high-end shops in Europe for their fashion-
hungry clientele.
The brand name Walls of Benin refers to the world's largest man-made structure, which was completed in the 15th century: a system of moats and ramparts designed to defend the ancient Kingdom of Benin, which is Benin City, the capital of present-day Edo State, Nigeria.
Mr. Atanga calls himself "chief evangelist," instead of chief executive officer, of Walls of Benin, and says that the company's goal is "to spread soft power through culture."
Taking on the Goliath
Mr. Atanga researched and designed the business plan for Walls of Benin. Buoyed by $100,000 seed money from the Portuguese government and an apprenticeship with the Erasmus European Entrepreneur Programme, he was able to finance his dream. "Using his gift for networking, Mr. Atanga secured an investment from the Lunan Group, the team behind the well-known brand Fiorelli," according to facetofaceafrica.com, an online publication.
He is now setting up production operations in a "special economic zone" outside the coastal city of Mombasa, Kenya's second-largest city.
"Our concept is not about riding the stereotype, Africa-to-Europe, textile/raw materials value chain, but a new paradigm," he declares. "Can we take on the Goliath Victoria's Secret on lingerie in Africa?" he asks, and answers with a firm "Yes!"
How will it work? "Our business model is simple: we take the spirit of African print textiles and swap wax and heavy cloth for more luxurious and ecological fabrics," he says. Kente, Ghana's famous silk-and-cotton blend, is an example of an African fabric, while silk and Tencel are natural fibres with extra softness and moisture-wicking properties. "We feel fashion brands in top cities in Europe should manufacture some of their wares in Africa and create jobs, and not merely export jeans, suits and other garments to Africa."
His first trip to Africa as an adult was to Ghana in 2014, and it was an eye-opener. "Everything was bright, vibrant and alive. It amazed me to see African print textiles everywhere. It dawned on me that this was a part of my heritage.
Currently, Walls of Benin operates from Kenya and Rwanda and it is importing silk and Tencel from Portugal. In April 2018, the company partnered with Wildlife Works, a wildlife conservation group based in Kenya, to launch an African production. The hope is to export luxury loungewear made of extra-soft silk and Tencel to Europe and elsewhere. The production is first of its kind on the continent.
Wildlife Works can manufacture a thousand loungewear items per week using digital screen prints. "From the east of Africa to the south of Europe, we are building the value chain," enthuses Mr. Atanga. He believes that the loungewear fashion industry in Africa, once ignored, has a bright future.
Meanwhile, rapid changes are taking place on a continent that a top British supermodel once chided for not having a Vogue magazine. "Africa's fashion industry is right now super exciting! It is new, at the same time it is centuries old. We are talking about the 55 countries in Africa and huge diaspora populations with billions of dollars of spending power," says Mr. Atanga.
This post is also available in: French
https://acaottawa.org/wp-content/uploads/2019/11/Walls-Of-Benin-Spring-Summer-2018-1.jpg
449
600
admin
https://acaottawa.org/wp-content/uploads/2019/10/logo.png
admin
2019-11-13 05:34:34
2019-11-16 17:58:14
Africa-made luxury loungewear takes on big brands